Iowa man sentenced to 100 years in prison for baby's death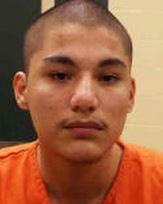 WAPELLO COUNTY (KWWL) -
A Columbus Junction man has been sentenced to 100 years in prison for the beating death of
his 4-month-old daughter.
Oscar Manuel Jimenez, 21, showed no emotion when he was sentenced Friday by Louisa County District Judge John Wright. Under Iowa law, Jimenez must serve 35 years before he's eligible for parole.
Jimenez was originally charged with first-degree murder, for which he faced a life sentence. Last month in a deal with prosecutors, he pleaded guilty to a reduced charge of second-degree murder.
Relatives took Marleen Jimenez to a hospital on Jan. 19, and she was found to have severe head trauma and other multiple injuries.
Police say Jimenez began beating the girl within days of her birth.