Jerusalem attacks: Israelis hurt in two Palestinian stabbings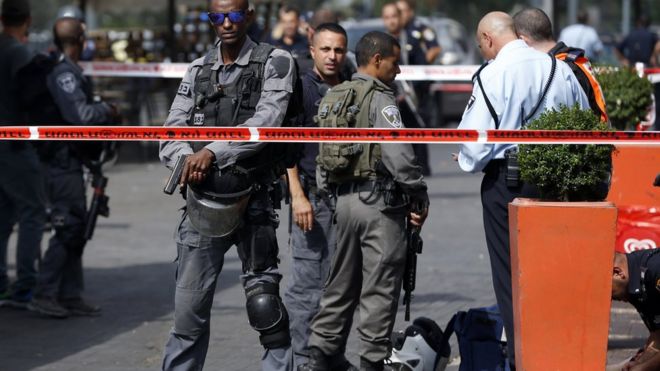 There have been two stabbing attacks by Palestinians in Jerusalem, with Israeli police shooting the attackers dead, Israeli officials said.
Two policemen were stabbed near Damascus gate on Saturday afternoon local time. A teenager stabbed
two Israelis nearby earlier in the day.
Overnight, a rocket fired by Gaza Strip militants landed in open country in southern Israel.
The past week has seen a spate of violence.
On Friday, Israeli troops opened fire on Palestinians near the Gaza border, killing seven. The army said it was attempting to disperse rioters who directed a grenade, rocks, and burning tyres at Israeli forces.
The Palestinians had been protesting in solidarity with Palestinians in Jerusalem and the West Bank.
There were further Palestinian demonstrations near the Gaza border on Saturday following the funeral of one of those killed the previous day.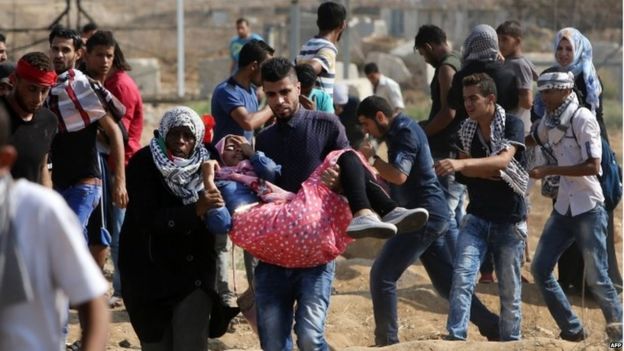 There were also clashes on Saturday after the funeral of a Palestinian man who had been shot during unrest at the Shuafat refugee camp in East Jerusalem and later died of his injuries.
The heightened tension between Israelis and Palestinians began in mid-September when Palestinian protesters clashed with Israeli police at the al-Aqsa mosque/Temple Mount compound, a site sacred for both Muslims and Jews.
Saturday's was the latest in a wave of stabbing attacks by young Palestinians on Israelis that have fuelled tension in East Jerusalem and the West Bank. Israel has responded with tougher security measures.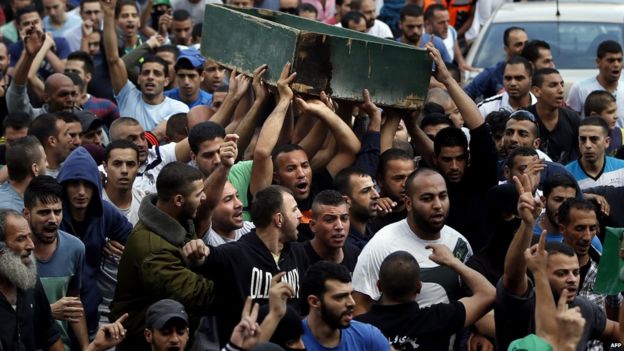 The violence has spurred talk from Hamas, which dominates Gaza, of a new Palestinian intifada, or uprising.
But the clashes have not yet reached the scale of previous intifadas, with no clear mass movement or leadership so far emerging.
Police said Saturday's first stabbing had been carried out by a 16-year-old Palestinian. Two ultra-Orthodox Jewish men in their 60s were wounded, police and medics said.
Later, another Palestinian stabbed two police officers just outside the Old City, police spokesman Micky Rosenfeld said. Police opened fire and killed the assailant, but also wounded one of their colleagues, he said.
CULLED FROM BBC