Samuel Eto'o steps up to help forgotten victims of Boko Haram
The Cameroonian football icon is raising money and awareness amid the escalating crisis in west Africa which, he says, 'isn't being talked about enough but is causing huge pain and damage'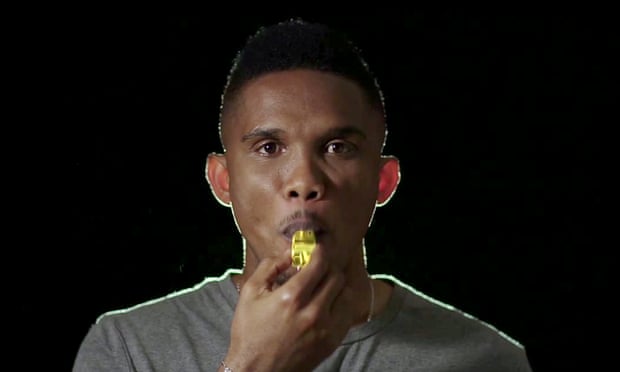 Samuel Eto'o blows the yellow whistle which is a symbol of his campaign to raise funds to help the victims of Boko Haram.
I

brahim is a 10-year-old Nigerian boy. He watched Boko Haram terrorists storm his village and murder his father. Then they turned their machetes on him, striking him in the head and leaving him for dead in a ditch.
Miraculously, Ibrahim survived. His sister, Larama, says that she "unburied" him and carried him away from the carnage. "I didn't have the strength but somehow, I found it," Larama says. They are now in a refugee camp in Cameroon, scarred and shaken but able to tell the tale.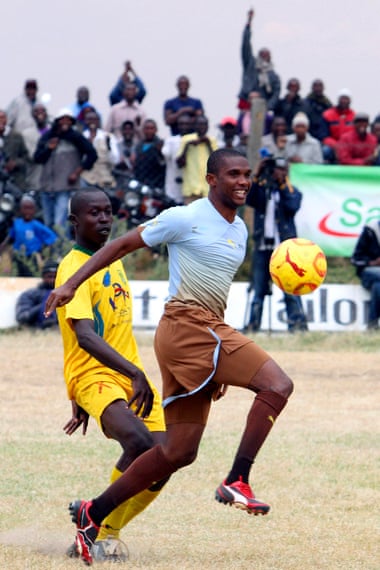 Samuel Eto'o, here playing in a charity match in Kenya in 2010, says Boko Haram has created 'a humanitarian crisis of unbearable gravity'. Photograph: Noor Khamis/ReutersThe footage stops and the room falls silent. It is one of those moments when the horror hits home with force of a wrecking ball. It is a little like the photograph of the tiny Syrian boy, who drowned in September, having attempted to reach Greece.
Samuel Eto'o, the African football icon, takes a deep breath. He has to compose himself on several occasions. "This is a humanitarian crisis of unbearable gravity," Eto'o says. "And, as Martin Luther King said: 'The ultimate tragedy is not the oppression and cruelty by the bad people but the silence over that by the good people.'"
Eto'o feels that the escalating crisis in west Africa, which has gripped north-east Nigeria and spilled into north-west Cameroon – Eto'o's Cameroon – Niger and Chad is in danger of being ignored; of somehow being brushed off the agenda as the global media focus on the situation in Syria.
It cannot be allowed to happen, Eto'o says on more than one occasion, and he has resolved to make sure it does not. Through the Fundación Privada Samuel Eto'o, which was established in 2006 with the purpose of raising awareness of the issues faced by Africa, he has launched the Yellow Whistle Blower FC initiative.
The idea behind the yellow whistle was to create a symbol of the victims of Boko Haram. The yellow has been taken from the star in the middle of the Cameroonian flag while the whistle is a metaphor for the population in the affected areas, many of whom are cattle farmers or nomads; the whistle is a part of their everyday life.
Eto'o, who plays for Antalyaspor in Turkey, has won everything during a glittering 18-year professional career, most notably four Champions Leagues and two Africa Cup of Nations titles. But the football achievements of the former Barcelona, Internazionale, Chelsea and Everton player appear as nothing more than a platform to make his voice heard during times as desperate as these.
"What we want is for people to become more sensitive and aware of the problem that we have in west Africa," Eto'o says. "It's a fact that, unfortunately, it is not spoken about a great deal. What we are trying to do, by whatever means possible, is to make sure that it is talked about and noticed.
"This is a crisis that doesn't only affect my country, Cameroon. It's something that is affecting the whole region and many other countries around the world. The fact is that it is a big problem, which isn't being talked about enough but is causing huge pain and damage."
Eto'o's Foundation, in conjunction with Oxfam and the UNHCR – The United Nations' Refugee Agency – hosted the first Yellow Whistle Ball at Claridge's hotel in London on Tuesday night. Some of Eto'o's footballing friends were there, such as Deco, Louis Saha, Habib Beye and Benoît Assou-Ekotto, and tens of thousands of pounds were raised via the auction of various lots. One of them was a training session with Eto'o.
CULLED FROM:GUARDIANUK.