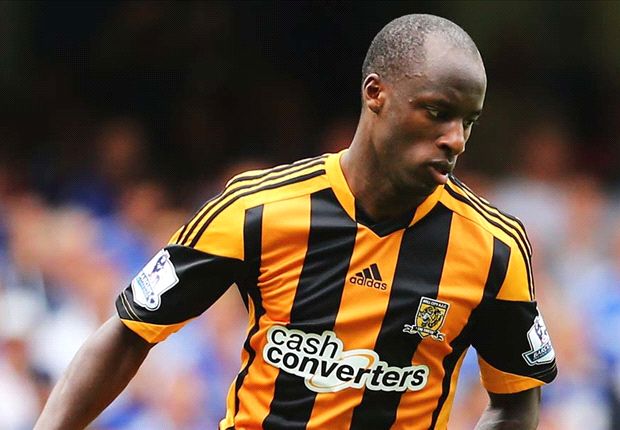 Sone Aluko defends Dele Alli and Jordon Ibe England choice
The Hull City midfielder said it is a difficult decision choosing an international side but fans must understand that the players did not snub their Nigerian heritage
Hull City midfielder Sone Aluko feels the negativity surrounding Liverpool and Tottenham youngsters Jordon Ibe and Dele Alli's decisions to play for
England instead of Nigeria is natural human reaction but should be understood in proper context.
On Thursday, Alli made his Three Lions debut in a game against Estonia while Ibe announced his decision to await an England call up to coach Sunday Oliseh last month.
Aluko, who also had to make the decision to represent Nigeria instead of England more than six years ago, says it's one of the biggest choices a player with dual nationality has to make.
While the 26-year-old chose Nigeria, his older sister Eniola chose to play for the English Women national team and reached the World Cup semi finals in June.
"I think it's very, very tough," Aluko told Goal at the Campos Mini Stadium on Saturday where he was guest of honour at the COD Ambbasador's Cup. "I grew up in the UK, UK academy, UK football, all you know is English football and that set up which is very organized, highly structured and you can see a clear pathway.
Ambassador Aluko |
Believes there's still a role in local football development for players who didn't choose the Super Eagles
"So to leave that and come to the somewhat unknown Nigerian football, you hear many stories of what Nigerian football could be like. It's a big step for anybody."
Aluko, scorer of both goals as Nigeria drew 2-2 with South Africa in Calabar last year, a draw which meant the Super Eagles failed to qualify for the 2015 Africa Cup of Nations, has been working with National League side COD United, which has invested in youth football development via the Ambassador's Cup open to players below 17 years.
"When I tell players, I don't tell them to choose Nigeria or choose England, go with your heart, get as much information as you can and decide," he said.
"We shouldn't criticize the players who play for England. We should still welcome them into the fold because they can still have a big impact on [youth football development].
"I know players who play for England who are Nigerian and they are very keen to know what I do here, very keen to find out "what's it like when you go back home?"
"We can still use their name or their brands to help develop Nigerian football even though they don't play for the Super Eagles. Everyone takes their own decisions, everyone takes their own paths," he said.
The decisions of Ibe and Alli, like those of John Fashanu, Gabriel Agbonlahor, John Salako and many others before them, have been met with negative remarks by Nigerian football aficionados and fans on social media.
"It's not right but it's a natural reaction because they see it as snobbery whereas they're really not snubbing Nigeria, it's Nigerian football. Let's separate that from Nigeria the country," said Aluko, who hails from Ode Ekiti.
"Many players still love Nigeria, they're still Nigerians. It's just that on a football level which is your career, if you decide I want to play for Nigeria, that means traveling to African countries every international break, that means the Africa [Cup of] Nations every two years and if you don't have the right information you hear [negative] stories abut Nigerian football every time.
"We don't help ourselves," he concluded in reference to the recent problems in the national camp between coach Sunday Oliseh and goalkeeper Vincent Enyeama.
Aluko has played for Scottish giants Rangers and reached the FA Cup final in 2014 with Hull City where they lost 3-2 to Arsenal in the final. They were eventually relegated from the Premier League at the end of the 2014/15 season.
The club is currently placed fifth in the Championship, four points behind leaders Brighton and Hove Albion, as it fights to regain promotion to the EPL. Aluko has scored once in nine appearances thus far.
CULLED FROM GOAL