MPI unveils mobile biosecurity x-ray machine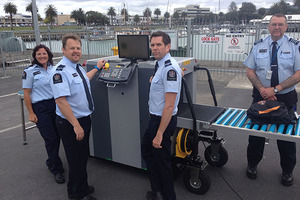 A mobile x-ray machine for scanning hand-baggage from cruise ship passengers was unveiled as the latest biosecurity tool of the Ministry for Primary Industries today.
The new machine - designed to keep destructive pests and diseases out of the country - has been trialled in Auckland and the Bay of Islands.
During the busy summer tourist period it will greet targeted cruise ships when they dock at Waitangi, Napier, Gisborne and
Auckland.
"The machine will be largely focused on detecting apples, bananas, and other potential fruit fly host materials that passengers can carry in their hand baggage," MPI's detection technology manager Brett Hickman said.
"With fruit fly populations on the rise in Australia, there is a heightened risk of the dangerous pest entering New Zealand this summer."
The machine will be used in conjunction with biosecurity detector dog teams and questioning of passengers by quarantine officers.
"Our detection tools are designed to work together to block pests and diseases that could damage our primary industries and natural environment," Mr Hickman said.
MPI currently owns and operates 30 x-ray units for baggage scanning at international airports, ports, the Auckland International Mail Centre and military bases.
CULLED FROM NZHERALD