Paris terror attacks: Father and son forced to lie on bloodied bodies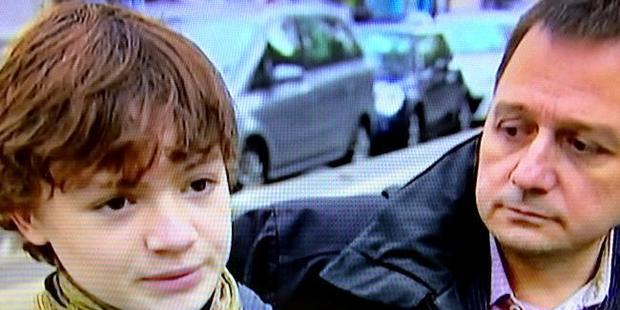 An Australian man and his 12-year-old son were forced to lie on top of bloodied bodies as they tried to escape the terrorists who opened fire in the Bataclan theatre in Paris.
John Leader, 46, says he and his son Oscar are still in denial about the horror they witnessed when gunmen opened fire in the theatre on Friday night, during an Eagles of Death Metal concert.
Having escaped the initial burst of gunfire by sheltering behind the mixing desk, the pair was forced to lie on top of bloodied bodies as a second burst rang out.
"I got on top of Oscar and was pushing him towards the mixing desk," Mr Leader told JJJ's Hack program.
He believed the initial shots were firecrackers but said it soon became clear they were in the grip of a deadly attack.
He described watching two of the gunmen working together, one coolly aiming at and shooting victims while the other covered him to make sure he could continue the slaughter with "AK-47-style guns".
"They were very calm, very methodical, very slow. I watched the guy reloading," Mr Leader said.
"This was practised. They weren't in there shooting like in an American movie. It was finding a target and then shooting and then finding the next target and then shooting."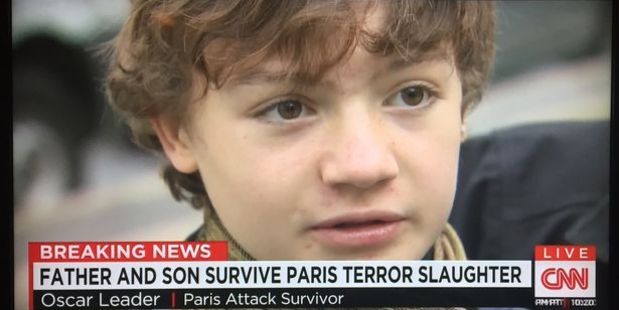 Mr Leader said he and his son tried to escape through an open fire exit after someone called out that the attackers had gone, but a second round of shots erupted.
"I got Oscar and pulled him flat on the floor. Unfortunately it was on top of the bodies and blood. He was trying to get up to the exit. I said 'get your head down'."
Mr Leader finally made it out but was horrified when he realised he'd become separated from his son.
As he ran out onto a street littered with more bodies he called frantically for Oscar, and even returned to peek back inside the doorway to the hall, but Oscar wasn't there.
The father and son fled separately up the street, as the shooting continued at their backs.
They were reunited shortly after when Mr Leader called his son's mobile.
"After two days we're starting to take the measure of what's happened," Mr Leader said.
"For Oscar we're focusing on this not being a life defining event ..."I don't think we're in shock. We're in the denial phase."
CULLED FROM NZHERALD