U. Missouri president, chancellor resign over handling of racial incidents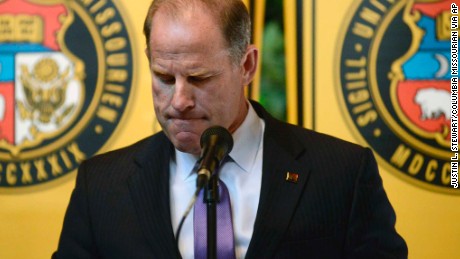 After weeks of escalating student protests and the threat of a football team boycott, the president of the University of Missouri system resigned Monday, forced out amid complaints that he had done too little to address racism and other ugly incidents on
campus.
Chancellor R. Bowen Loftin — who oversees the university's main campus in Columbia, Mo. — also will step down, the university system's governing body, the Board of Curators, announced Monday evening. Loftin plans to leave his position at the end of the year and move to a new role within the university as director for research facility development.
The unseating of two of the university's top leaders was a swift victory for student activists, who had been railing against what they see as a divisive racial climate on the midwestern campus. They have accused Missouri's president, Tim Wolfe, of not addressing racist and bigoted incidents this academic year, including when the undergraduate student body president was called the n-word, when a white student climbed onto a stage and shouted slurs as a black group rehearsed a skit, and more recently when a swastika was drawn on a wall with human feces.
In Columbia — not far from Ferguson, where the police shooting of a black man in 2014 sparked a national debate about race — the community had been increasing its protests of how minorities are treated, but they found Wolfe unresponsive and apparently unaffected. A student's hunger strike and the football team banding together to threaten to sit out the rest of its games — a potential public relations disaster and financial loss — pushed the issue into the national conversation.
The nation's college campuses have become an increasingly common venue for that debate. At Yale University, for example, the president told students last week that the university had "failed' its minorities after students rallied on campus with emotional tales of discrimination and insults; hundreds of students rallied again in New Haven on Monday as students in Missouri celebrated on the Carnahan Quadrangle, where they had been camped in a tent city in protest.
Missouri students played music, danced and shouted chants of victory, a sometimes tense but hopeful atmosphere.
CULLED FROM WASHINGTONPOST