University of Missouri police arrest suspect in social media death threats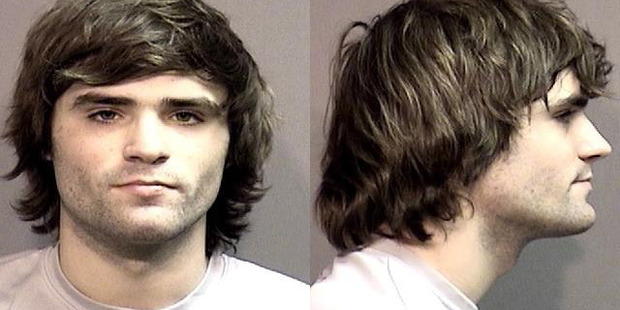 A 19-year-old white male was arrested by University of Missouri police for posting threats to the racially roiled campus on social media, authorities said.
Hunter Park was taken into custody around 1:50 a.m. Wednesday, according to MU police. He was arrested "for making a
terrorist threat."
Police didn't specify what the threats were, but the campus in Columbia was shaken by anonymous threats directed toward students of color.
"I'm going to stand my ground tomorrow and shoot every black person I see," read one post on the anonymous message app Yik Yak on Tuesday.
"Some of you are alright," began another post. "Don't go to campus tomorrow."
"We're waiting for you at the parking lots," read a third anonymous post.
"We will kill you."
University police said they "contacted" Park in Rolla, Mo., a city about 94 miles from the Mizzou campus, according to a news release.
"University of Missouri Police have apprehended the suspect who posted threats to campus on YikYak and other social media," an MU alert posted Wednesday morning stated. "The suspect is in MUPD custody and was not located on or near the MU campus at the time of the threat."
Park is a sophomore at the Missouri University of Science and Technology, a school within the UM system, spokeswoman Mary Helen Stoltz said. He is studying computer science.
"Threats of violence of any kind are not tolerated," Missouri S&T Chancellor Cheryl B. Schrader said in a statement. "As a campus, we are grateful that this situation did not escalate. I thank both of the police departments for their swift action in handling this case. As always, the safety of our students, faculty and staff is our utmost concern."
According to Boone County Sheriff's Department records, Park is from Lake St.
Louis, a suburb of St. Louis. His initial arraignment was scheduled for Thursday afternoon, a Boone County Jail employee said. No attorney for Park was listed in jail records.
The university was operating at a "regular schedule" following Park's arrest, according to the MU alert.
"Safety is the university's top priority and we are working hard to assure that the campus remains safe while information is obtained and confirmed," it stated.
The threats -- and Park's arrest -- followed the resignation of Tim Wolfe, who had served as president of the four-campus University of Missouri System. R. Bowen Loftin also announced he would step down as chancellor of the flagship campus in Columbia, where students have been calling attention to the treatment of minorities.
During the unrest, graduate student Jonathan Butler went on a hunger strike, and Missouri's football team threatened to boycott.
CULLED FROM NZHERALD